Friday, September 18, 2015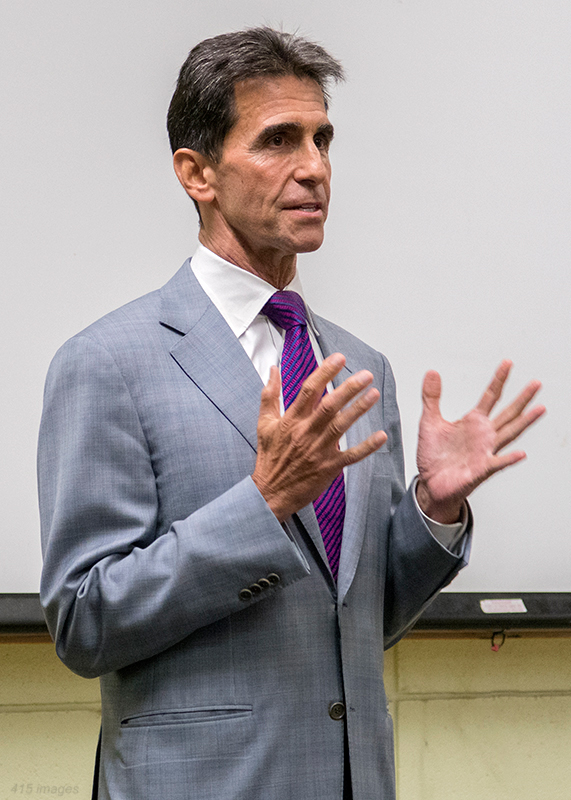 This meeting took place at at the County Fair Building in Golden Gate Park.  State Senator Mark Leno spoke about three bills he has co-authored in the Legislature and answered questions.  Sheriff candidates Ross Mirkarimi and Vicki Hennessy appeared jointly to make their pitches and answer questions.
Leno represents the 11th State Senatorial District, which includes all of San Francisco as well as parts of Daly City and South San Francisco. State Senator Leno will be "term-limited" out of office at the end of 2016. He has been prominently mentioned as a possible candidate for higher office, including mayor and Congress.
Leno reported on the following three bills that he co-authored in this session of the Legislature (which has one year remaining).
First, he has proposed a modification of the Ellis Act to permit a new owner of rent-controlled property in San Francisco to evict tenants only after owning the property for five years.  This bill has yet to clear committee, opposed by the California Realtors, including its San Francisco branch.  Leno is hopeful for progress in the second year of the session.
Second, he co-sponsored a bill, now awaiting Governor Brown's signature, to allow terminally ill patients to end their lives.  Leno said the bill is more restrictive than a similar law in Oregon, which he said has worked well.  He quoted a terminally patient who has since died: "No one should have the right to extend my death."
Third, Leno co-sponsored a bill, vetoed by Governor Brown, to require law enforcement to obtain a warrant or a waiver before accessing a person's geo-location from a cell-phone, or accessing a person's e-mail, texts, and smart phone.  Leno noted that the bill was co-authored by a conservative Republican.  Leno said privacy from law enforcement surveillance is as important to Republicans in the Legislature as it is to Democrats.  Law enforcement was neutral on the bill.
Leno answered questions about the top-two primary system (he's opposed, but it's not going away); the Governor's proposal to build water tunnels (opposed); and proposals to make it more difficult for teacher's to obtain tenure (opposed— he is "prone to be a little more sensitive to the viewpoint of teachers" and is not comfortable imposing anything on them "without their being at the table.")
———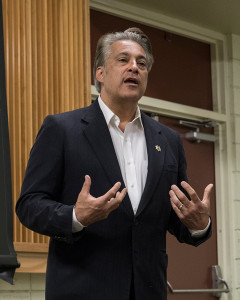 Mirkarimi stressed the fact that former Sheriff Michael Hennessey selected Mirkarimi to be his successor when Hennessey retired in 2011. Hennessey has again endorsed Mirkarimi.  Mirkarimi said he won the endorsement because he is independent of the Mayor and the District Attorney, who,  Mirkarimi said, want to subordinate the Sheriff's Department to them. He said he did not think Hennessy would be independent of the Mayor.
Mirkarimi said San Francisco has one of the most under-crowded jail population in the country, even though the Governor's realignment program has transferred low level offenders from state prison to county jails.  Mirkarimi attributed the under-crowding to a low recidivism rate, which in turn he attributed to excellent programs in the jail.  He stressed the awards the Sheriff's Department has won while he has been Sheriff.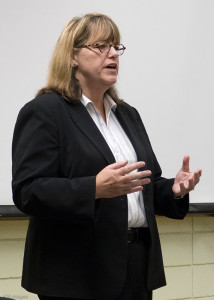 Hennessy (no relation to Michael Hennessey) stressed the fact that she has worked in many different management positions in the Department for 25 years, including interim sheriff in 2012. She said she had worked and would continue to work to professionalize the Department.  She said she was running to restore proactive leadership and to return the balance between criminal and social justice, although she did not specify what she meant.
She said programs in the jail must be assessed and recidivism rates should be posted on line.  She said the under-crowding in the jail in the wake of realignment was largely attributable to the fact that there were relatively few prisoners in state prison who were returned to San Francisco.
She said Mayor Lee told her when he appointed her interim sheriff that she should be independent, and she was.  She called Michael Hennessy one of the best sheriffs she ever worked for and said she had the promotions and commendations to prove it.
Both candidates said crime was rising in San Francisco.  Neither explained why.  Mirkarimi said he wants to help the police by lending sheriff's deputies to the police department.  Hennessy said no more than 10 sheriff's deputies could be added to the SFPD, too little to make a difference.
Hennessy criticized Mirkarimi for not working well with staff, for not providing training and oversight, and for not being proactive.  Mirkarimi responded that a clique in the sheriff's department "wants one of their own" to be sheriff.  He said Michael Hennesssey was often opposed by the deputy sheriff's union, which always said morale was low when Hennessey was in charge.   Vicki Hennessy said Michael Hennessey was able to work with people regardless of whether they supported him, engaging them and getting them to buy in.