Sunday, March 8, 2015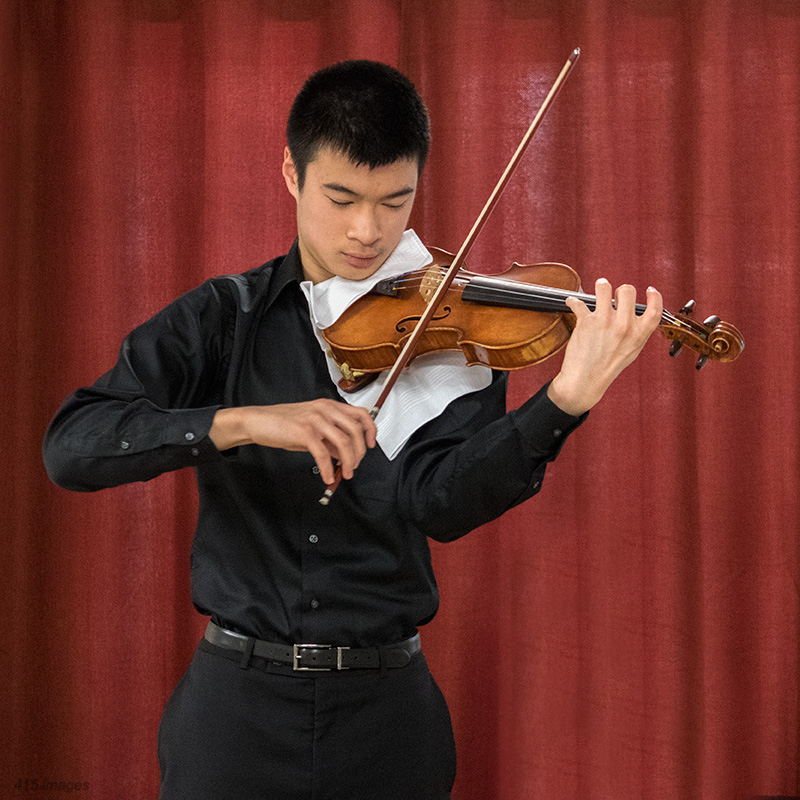 Jonathan Chu, accompanied by Jaymes Kirksey on the piano, entranced a full house of folks from 8 to 80 in SHARP's second free concert.  If you could not see him while he is playing, you would not think this is a 15-year-old. Jonathan plays with the tone and technique of an accomplished musician. This kid is going places. Fortunately for us, he's still in the neighborhood.
Jonathan played the first movement (Allegro) of Beethoven's Sonata No 5. in F Major, Op. 24 (Spring); Beethoven's Romance in G Major, Op. 40; Paganini's Caprice No. 14 in E-flat Major;  the third movement (Andante) of J. S. Bach's, Sonata No. 2 in A minor, BWV 1003; Paganini's Caprice No. 9 in E Major; and Samuel Barber's Violin Concerto, Op. 14.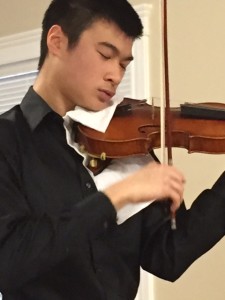 A comment from a member of the audience: "What an incredible concert.  Of course I was absolutely wowed by Jonathan to start with, but the Barber piece was so incredible I couldn't believe it.  I typically cannot abide contemporary music.  I found the III movement of the Barber piece inspiring.  What a talented young man.  I hope you invite him again another time!  Thanks."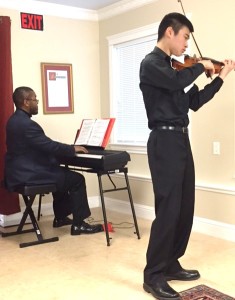 Here is Jonathan's performance of the Barber violin concerto.   And here are two other samples of his brilliance: the third movement of the Mendelssohn violin concerto in E major and the Saint-Saens violin concerto No. 3 in B minor, Opus 61.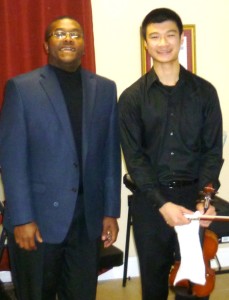 Jonathan Chu began studying the piano at age 4 and the violin at 6. He served as concertmaster of the Golden Gate Philharmonic from 2012 to 2014 and joined the San Francisco Symphony Youth Orchestra in 2013.  As a violinist, he won two Gold Awards at the 2014 Huain Cup International Chinese Music Competition in Sunnyvale and was a winner at the Bay Area Junior Bach Festival in 2012 and 2014, where he performed as soloist with the Golden Gate Philharmonic.
Jonathan is the accompanist for the children's choir at Lakeside Presbyterian Church and gives recitals with younger sister Hannah at retirement and nursing homes in the Bay Area throughout the year.  He and Hannah charmed SHARP with an impromptu performance of Christmas carols at our winter solstice luncheon.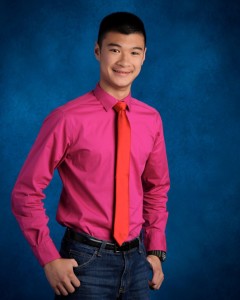 A student at Lowell High School, Jonathan is the president of his class, the class of 2017. (Scroll down for his pic and bio.) He runs, plays tennis, excels at math, and (because time is short) speed-solves the Rubik's Cube, his official record being 10.86 seconds.  P.S. He is just as nice as he is smart and talented.
Jaymes Kirksey, Jr., a native of Oklahoma, holds a double bachelor's degree in piano and violin performance from Southwestern Oklahoma State University and a master's degree in violin performance from the San Francisco Conservatory of Music. A staff accompanist at SFCM, he has been part of numerous world premiers with the Conservatory's New Music Ensemble and also with San Francisco's Opera Parallele, an organization dedicated to developing and performing contemporary chamber opera.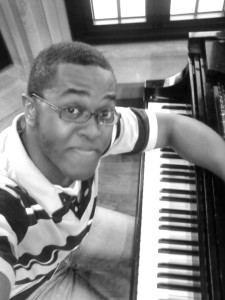 Jaymes serves as the Assistant Conductor for the Young Musicians Choral Orchestra, teaches music, and performs. He has won prizes for both violin and piano at national and international competitions, including the Margaret Gutthman Piano Competition in Atlanta, the Baylor University Music Competition, and the Juanita Hubbard Invitational Piano Competition. He made his professional debut as a pianist at the age of 13, performing Grieg's Piano Concerto in A minor with the Oklahoma City Philharmonic. In 2006, Jaymes debuted at Carnegie Hall as a violin soloist with the National Festival Orchestra.