Monday, July 27, 2015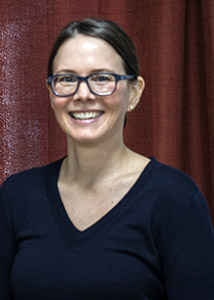 One problem with cooking shows on TV is that you don't get to actually eat anything. Problem solved. Jeanne Snyder (theplantperspective.com)  introduced us to plant-based cuisine with a talk, demo, and free samples for all. Forget show and tell. This was show, tell, and eat. A chef formally trained in plant-based cuisine, Jeanne teaches classes on plant-based cooking and on how to introduce more plant-based ingredients into one's diet. She is also a lawyer, so she talks a good game, but how many lawyers let you taste their evidence?
Jeanne believes that plant-based food can be delicious, satisfying, and easy to prepare. It's also healthier for humans and the planet, but leave the morality aside. This evening was devoted to pleasure-making.
It began with a mushroom appetizer and a choice of wines, the latter courtesy of our resident oenophile, Deane Hartley.  (For the record: the white wine was an Albariño from the Rias Baixas region of Spain; the red wine was a Barbera d'Alba from the Piemonte region of Italy.)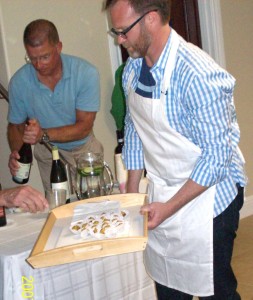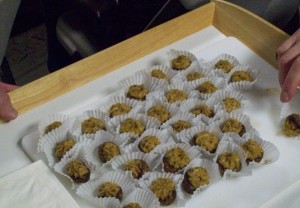 Jeanne then took us through the preparation of two dishes as we watched.  First, she made a smooth, tangy, lemon-garlic aioli served with steamed artichoke leaves and baby carrots.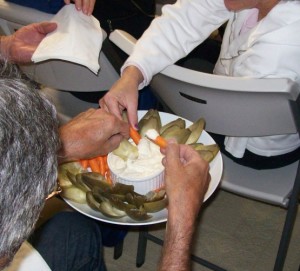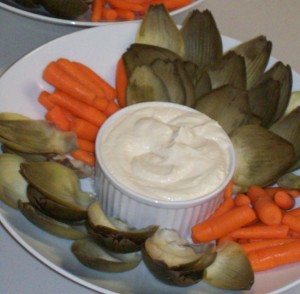 Then, for dessert, Jeanne created a salted pecan-chocolate-caramel fudge tart that went beyond any chocolate decadence you have ever encountered. Question from the audience: "How many calories?"  Jeanne: "I try not to think about that." She told of a relative who cuts the tart into bite size pieces, freezes them, and allows himself one such piece when he comes home from work.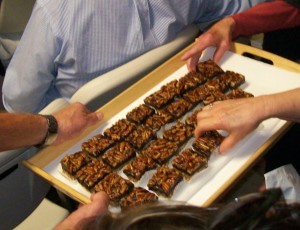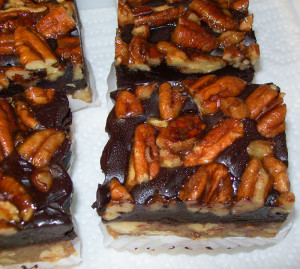 Jeanne spoke clearly and easily as she worked, answering many questions, but her creations spoke most powerfully of all. We had a roomful of applause at the end.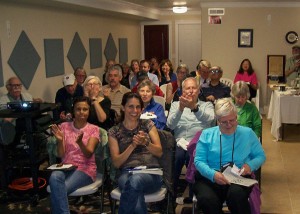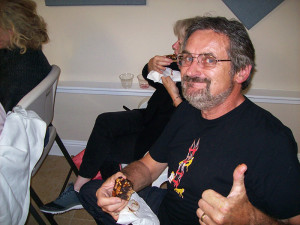 Recipes below.  Check the "explore plants" page on Jeanne's website for a list of resources under these subject headings: "recommended cookbooks," "noteworthy websites," "supplies and tools," and "nutrition information."
Special thanks to sous-chef (and husband) Dan Clark for assisting, to Deane Hartley for the wine, to Deane and Dan for waitering, and to our tech guy, Dennis Minnick, for the perfectly modulated microphone and a video system that allowed everyone to follow the details of Jeanne at work.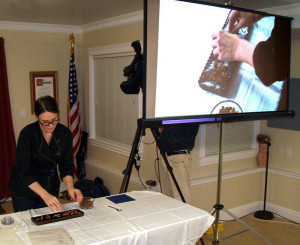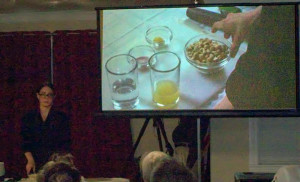 JEANNE'S RECIPES
Steamed Artichokes w/Lemon-Garlic Aioli
Source: J. Snyder – The Plant Perspective
(2-4 servings as a meal)
INGREDIENTS:
2-4 artichokes, steamed (or however you wish to prepare them)
——
Aioli Ingredients:
6 ½ ounces unroasted/unsalted/"raw" cashews (about 1C and 1 handful)
6 tablespoons fresh lemon juice
1 ½ teaspoons salt
1 teaspoon garlic, pressed
½ cup water
METHOD:
Steamed Artichokes
1. Rinse artichokes and cut off base stem; (slice top of cone off for presentation if you wish).
2. Place artichokes in a pot with a steamer basket and water. Bring water to a boil, reduce to medium heat and cover. Cook for approx. 45-60 minutes (depending on size of artichokes). Check water level periodically to ensure water level, and be sure to sample an artichoke leaf after 45 minutes to determine continued length of cooking.
3. Remove from pot and serve immediately.
Aioli
1. Place all aioli ingredients in blender and blend until smooth and creamy.
2. Best if served right after preparing or at room temperature so it is soft, like a dip.
3. Store in airtight container in fridge for up to 5 days.
NOTE:
If serving aioli after it has been refrigerated: remove from fridge about 1 hr prior to serving to allow the aioli to come to room temperature; mix with spoon to fluff before serving.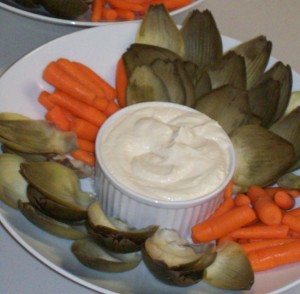 ———–
Salted Pecan-Chocolate-Caramel Fudge Tart
Source: J. Snyder — The Plant Perspective (Adapted from a Living Light Culinary Arts Institute recipe)
(16- 24 servings)
INGREDIENTS:
Candied Pecan Crumble Topping (must be prepared in advance)
¼ cup maple syrup
½ teaspoon cinnamon
1 pinch nutmeg
¼ teaspoon salt
1 cup pecan pieces (unroasted/unsalted/"raw")
Bottom Caramel Layer
½ cup coconut oil, liquefied (See Note; be sure to have this ready prior to starting)
¾ cup medjool dates (packed, pitted, and room temperature) (about 15 dates)
2 tablespoons maple syrup, room temperature
1 tablespoon vanilla extract (non-alcohol)
1 ¼ cup pecan pieces (unroasted/unsalted/"raw")
Chocolate Top Layer
¾ cup cocoa powder
¾ cup maple syrup, room temperature
⅓ cup coconut oil, liquefied (See Note; be sure to have this ready prior to starting)
METHOD:
Candied Pecan Crumble Topping (must be prepared in advance)
1. In a bowl, whisk together maple syrup, cinnamon, nutmeg and salt.
2. Add the pecans and mix well to coat the pecan pieces with the mixture.
3. Spread in one layer on teflex dehydrator sheet and tray, and dehydrate at 135 for 1 hr, and then 115 overnight (7hrs?) or until crisp.
OR
Coat pecans with mixture, spread onto parchment-lined baking sheet, and toast in the oven until ready. (IMPORTANT: must be cool before using to top tart.)
Bottom Caramel Layer
1. Place the dates, coconut oil, maple syrup and vanilla in the food processor (fitted w/ "S" blade) and blend until smooth — very important to achieve desired consistency: should glisten, be a uniform color — no little flecks/pieces of date still visible, should resemble half-melted taffy.
2. When correct consistency, remove date mixture from food processor and place in bowl. Fold in by hand the plain pecans, which were set aside for the bottom layer;
3. Line the bottom of the tart pan with parchment paper, then spread/press the mixture evenly into the pan; set aside.
Chocolate Top Layer
1. Blend together all of the "chocolate top layer" ingredients in a high-speed blender to achieve a smooth consistency.
2. Pour the "chocolate top layer" over the "bottom caramel layer." Spread it across the tart pan to distribute it evenly.
3. Sprinkle the "candied pecan crumble topping" evenly over the entire chocolate layer.
4. Place in fridge or freezer to set. (Best if placed in freezer overnight, or at least 4-6 hrs in freezer.)
SERVING DIRECTIONS:
Best if kept in freezer, in airtight container or tightly-wrapped saran wrap, until day of use.
1. On day of use: remove from freezer, remove saran wrap, slowly push bottom of tart pan up to remove tart from pan, being very careful not to break off pieces.
2. Once tart is removed from pan, slice into desired-sized pieces with a warm, dry, clean knife. (Always wipe the knife with a towel after each slice to get as smooth a cut as possible.  Run the knife blade under hot water from time to time and wipe dry; this, too, helps insure a very smooth cut.)
3. Once you have finished slicing the tart, place pieces in fridge or freezer, depending on the consistency you desire when serving that day.
BE AWARE: the bottom of the tart is lined with parchment paper; be sure to remove it before eating!!
NOTES:
Brands used in this recipe:
Shady Maple Farms Maple Syrup (grade B)
Artisana Coconut Oil
Frontier Non-Alcohol Vanilla
Valhrona 100% Cocoa Powder
— Ingredients in both the "bottom caramel layer" and the "chocolate top layer" are best used at  room temperature.  At room temperature, they will not cause the liquid coconut oil to solidify, which would in turn cause unnecessary stress during blending or processing.
– Rectangular tart pan for this recipe amount is approx. 14"x 4 ½" x 1."   I originally got my pan at Target, but currently, I can find them locally only at Williams Sonoma: http://www.williams-sonoma.com/products/gobel-standard-nonstick-rectangular-tart-pan/?cm_src=PIPRecentView.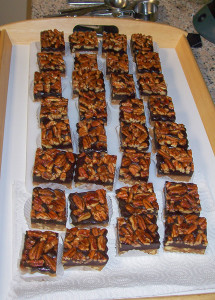 ———-
Simple Pecan-Maple Ice Cream
Source: Raw, by Charlie Trotter and Roxanne Klein (p. 162)
(Servings: 2 cups? but not sure because it's a component of a much larger recipe)
INGREDIENTS:
2 cups pecans (unsalted/unroasted/"raw")
½ cup Maple Syrup
1 cup water
METHOD:
1. Rinse pecans and drain.
2. Combine pecans with 1 cup of water and the ½ cup of maple syrup in blender, and blend until a smooth puree.
3. Pass the puree through a "nut milk" bag or fine mesh sieve, being sure to get all the liquid collected for your ice cream while not capturing any of the fibrous bits.
4. Place liquid in an ice cream maker and follow instructions. (I have skipped the ice cream machine at times. This particular recipe works fine if you just pour the liquid into a container and freeze it.)
NOTES:
– Soaking pecans in water for 1 hr prior to use in recipe will help a less powerful blender do its job.
– Soaking the nuts prior to use in the recipe and then using the "soaking" water as the 1 cup water called for in the recipe may enhance the flavor even more, though I rarely do this and the ice cream tastes great without doing this.
– When separating the liquid from the fiber (#3 above), I highly recommend using a nut milk bag because it's much easier to work with and it allows you to get the most liquid out of your mixture. You can purchase one or make your own out of nylon. (Some people use pantyhose material, though I have never tried this.) If you purchase one, directions usually come with it, or there may be some tutorials online, but if you want some guidance, please feel free to email me for directions: info@theplantperspective.com