Monday, August 29, 2016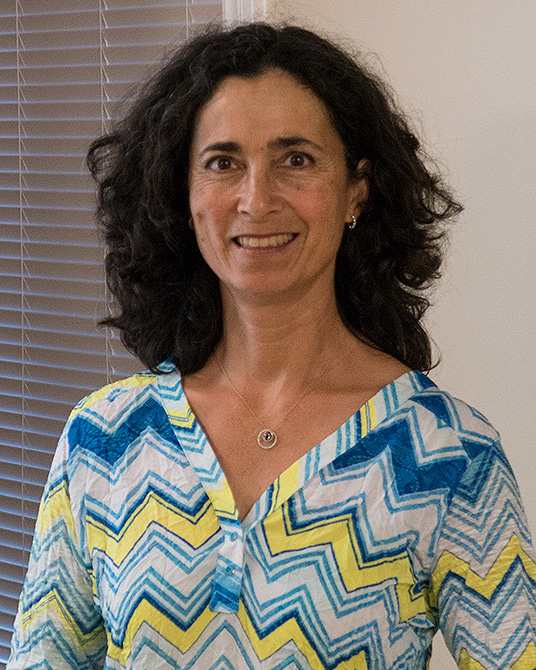 We looked at the election through the eyes of someone who studies elections. Melissa Michelson is a professor of political science, a widely quoted authority on Latino voter turnout, and the prize-winning co-author of two books and numerous articles. She predicted that Hillary Clinton will win by a sizable margin ("it's over"), that gridlock between the President and Congress will continue unabated in a Clinton administration, and that the Republicans will be favored to win the presidency in 2020.
Michelson began by tempering her predictions with two past predictions she made. In 2007, she said Barack Obama had no chance to be elected President. In 2015, she said Jeb Bush would be the Republican nominee in 2016. Michelson advised us to take her predictions with a generous grain of salt.
Michelson said that stricter voter ID laws disproportionately affect minorities but will likely not matter to the result because (1) the new laws are mostly in states where the Presidential election is not close, and (2) even in those states where it might be close, the effect is just not that much.  Making voting harder depresses turn out marginally; making it easier increases turnout marginally.  (Exception: places where you can register as well as vote on Election Day; "same-day registration" boosts turnout significantly.)  In North Carolina, where the Presidential election appears to be very close, Michelson said minimally depressed turnout from restrictive rules might tip the balance. In late August, the U.S. Supreme Court declined to review a lower court decision striking down some of North Carolina's restrictive rules. It is unclear what rules will actually govern the election in North Carolina.
Michelson said that the Trump candidacy had spurred Latinos to register to vote and that increased voting by Latinos could be important in North Carolina, even though Latinos make up less than 10% of that state's population.
Michelson recommends these websites: Real Clear Politics; Nate Silver's fivethirty-eight.com; and Larry Sabato's Crystal Ball.
Some slides from Michelson's talk (click on image for larger version) —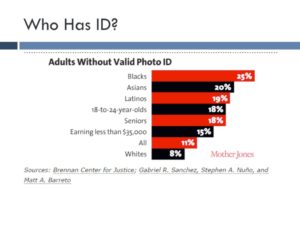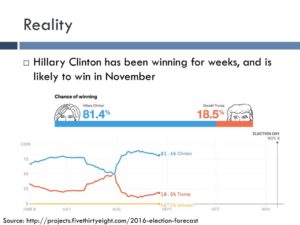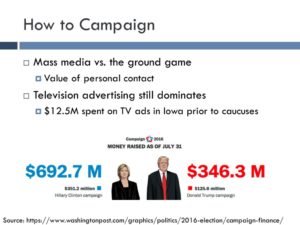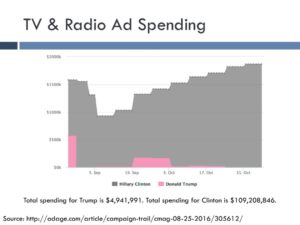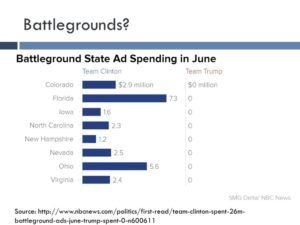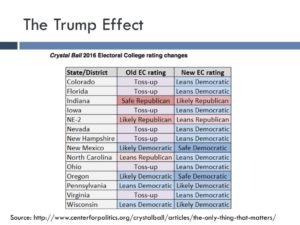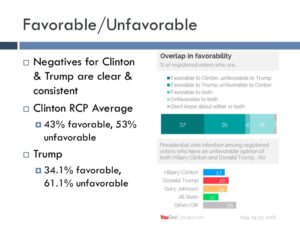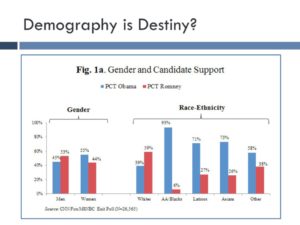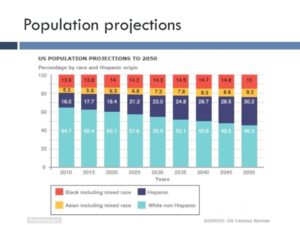 For an explanation of how the Republican party has become weak in presidential elections but strong in Congressional ones (two related trends), Michelson recommends Stronghold, by Tom Schaller. The book also explains the political polarization and legislative paralysis that have plagued the country and appear likely to continue regardless of the outcome of the presidential election.
Melissa Michelson has two master's degrees from Yale University and a doctorate from Yale as well. An enthusiastic teacher, she teaches courses at Menlo College on California politics, campaigns and elections, civil liberties, and an introduction to politics. She is used to people asking her what the heck is going on. Here she is explaining her research into how door-to-door canvassing can boost Latino voter turnout.