Monday, May 22, 2017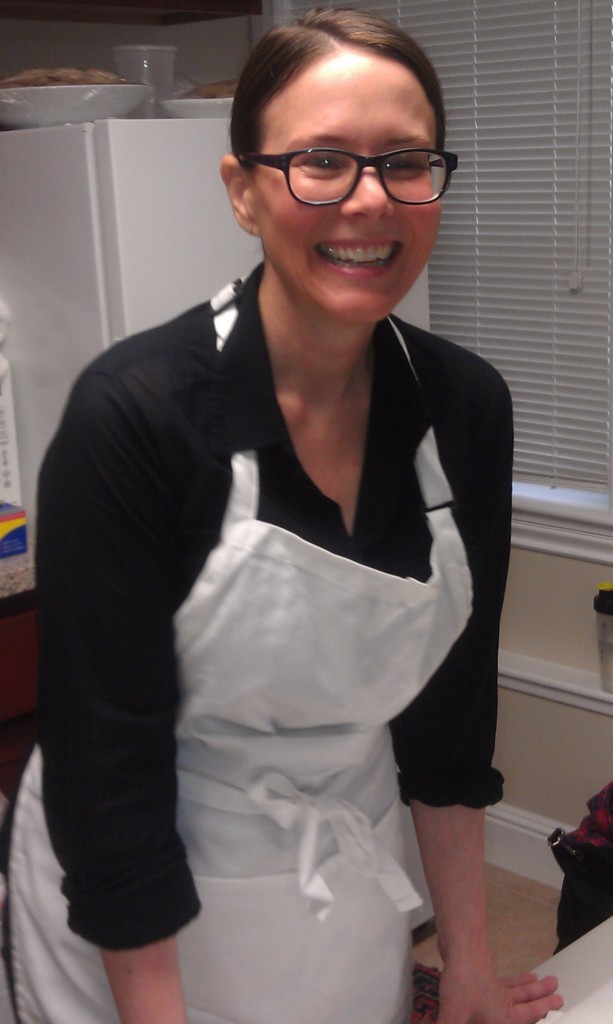 After her full-house debut at SHARP in July 2015, Jeanne Snyder returned with another talk and demo about plant-based cooking, including free samples for all.  A Warriors playoff game diminished  the attendance but not the satisfaction of the attendees.  As gifted a presenter as she is a cook (check out her beautiful website), Jeanne again took us step by step as she prepared her dishes. This time they were: spicy tomato-chickpea soup (served with bread), basil pesto (served on bruschetta slices with fresh tomato), and lemon-doodle cookies.  Show, tell, eat, yum.  See recipes below.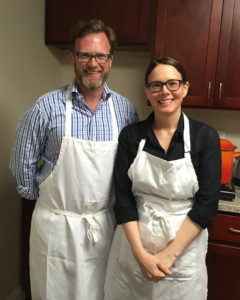 Jeanne's Recipes from the Program (plus a bonus recipe)
(1) Spicy Tomato-Chickpea Soup
Source: Adapted from Vegan Yum Yum
(Yields: 4 cups)
• 3 tablespoons vegetable oil
• 1 yellow onion, large, chopped
• 2 cloves garlic, minced
• ½ teaspoon cumin, powdered
• ½ teaspoon red chili pepper flakes
• ½ teaspoon mustard seeds, yellow
• ½ teaspoon turmeric, powdered
• 1 can chickpeas, 15 oz. can, drained
• 2 cans crushed tomatoes, 28 oz. can
• ½ – 1 teaspoon salt
• 2 tablespoons nutritional yeast
• ¼ cup water
• salt and pepper to taste
Directions:
1. Chop onion and saute in olive oil until softened; add minced garlic, cumin, and chili flakes, and stir for another minute;
2. Add mustard seeds, turmeric, and drained chickpeas; cook until chickpeas begin to brown;
3. Add crushed tomatoes, water, and salt, and bring to boil; reduce heat and simmer for 20-30 minutes to cook;
4. When soup has finished cooking, using a submersion blender,* blend soup until creamy and smooth, adding nutritional yeast during the blending process; salt to taste and serve immediately.
* If not using an immersion blender, this soup can be blended in a blender in parts – this step is easiest once the soup has cooled, but can be done carefully when it has just finished cooking and remains hot.
Serving Suggestions:
Serve immediately in bowl with great bread; if you like extra "cheese" flavor, feel free to add some more nutritional yeast at this point in the individual serving bowl and mix well.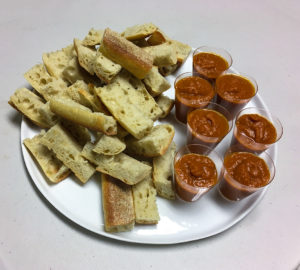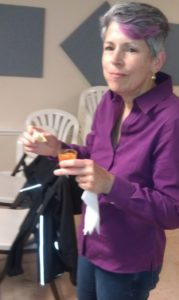 ———-
(2) Basil Pesto
Source: The Plant Perspective (J. Snyder)
(Yields: 20 small baguette slices)
• 1.5 cloves garlic
• 2 cups fresh (sweet) basil leaves, tightly packed
• ¼ heaping cup pumpkin seeds, unroasted
• 2 Tablespoons + 1 teaspoon mild yellow miso
• 2 tablespoons olive oil, heaping
• ¼ teaspoon salt (optional), taste before adding
Directions:
Fit food processor with the "S" blade attachment. Drop garlic through feed tube with motor running and process until minced. Remove lid and add basil, pumpkin seeds, miso, and olive oil. Process until a thick paste – or to desired consistency.
Serving Suggestions:
Serve on toasted french or sourdough baguette slices with diced tomato; sprinkle with salt and pepper (to prepare: preheat oven to 250°F; slice bread and set slices on baking sheet; brush each slice with olive oil and place in oven for 5 minutes or until desired crispness; remove from oven and spread pesto on each slice; top with diced tomato and sprinkle with salt and pepper)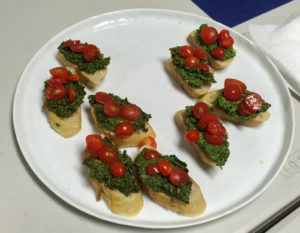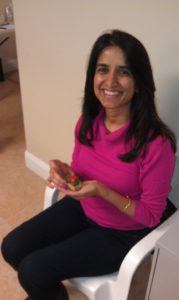 ———
(3) Lemon-Doodle Cookies
(Yields: 24 Cookies)
• 2 cups (240g) all-purpose flour
• 2 tsp cornstarch
• 1 ½ tsp baking powder
• ½ tsp salt
• 3 tbsp lemon zest (about 3 medium lemons)
• 4 tbsp (48g) Earth Balance Vegan butter (olive oil – based), melted and cooled slightly
• 1 Tbsp Ener-G egg replacer mixed with ¼ C water*
• 2 tsp vanilla extract
• 1 tsp water
• 1 ¼ cups (240g) granulated sugar, divided
Directions:
Preheat the oven to 350°F, and line two baking sheets with silicone baking mats or parchment paper.
In a medium bowl, whisk together the flour, cornstarch, baking powder, salt, and lemon zest.
In a food processor fitted with an "S" blade, whip together the butter, egg whites, vanilla, and water. Add in 1 cup of granulated sugar.
Transfer to a large mixing bowl and incorporate the dry flour mixture.
Place the remaining 1/4 C granulated sugar to a small bowl. Roll the cookie dough into 24 balls. Working with one ball at a time, roll in the granulated sugar, and place onto the prepared baking sheets. Flatten to the desired thickness and width. [These cookies do not spread in the oven, so you must flatten the cookie dough before baking]
Bake at 350°F for 11 minutes. Cool on the baking sheets for 10 minutes before transferring to a wire rack.
*Notes: To prepare egg replacer: use 1 tablespoon of Ener-G whisked with ¼ cup of warm water, and let that sit for 5 minutes before adding to the food processor.
If the cookie dough is too dry to roll into 24 balls, sprinkle it with a little water to help shape the dough; if the cookie dough is too sticky to roll, chill for at least 30 minutes.
This recipe is easily halved if needed.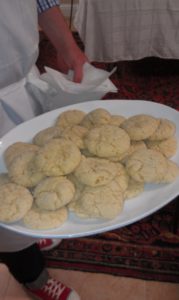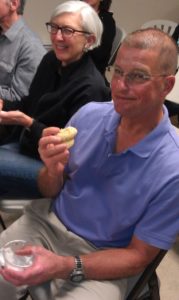 ———–
(4) Cheese Sauce
Source: The Plant Perpective (J. Snyder) (1 Cup)
• SAUCE INGREDIENTS
• 2 tablespoons fresh-squeezed lemon juice
• 1 cloves garlic
• ¾ cup water
• 3 tablespoons olive oil (Brand: Bariani)
• 3 heaping tablespoons nutritional yeast
• 1 teaspoon salt
• 3 tablespoons roasted tahini (Brand: Joyva – can usually be found by the nut butters)
• 3.5 ounces cashew pieces, UNROASTED (approx 1/2C and 1 handful) cashew pieces are a bit drier than whole cashews, so a slight adjustment in water amt may be needed if you use whole cashews
FOR THE SAUCE:
In a blender, place all sauce ingredients and blend until smooth. (consistency of the sauce is important here! Jeanne has a powerful blender (VitaMix) so it's no problem for her.  If you have a regular blender, it should blend together rather well because there is adequate liquid in the recipe, but if you have difficulty blending to a creamy consistency, try soaking the cashews in water for 30 minutes, or overnight, before using them in this recipe.
SERVING OPTIONS:
OPTION 1: make a Mac n' Cheese type dish for one big dish for a couple of people.  Mix together freshly cooked millet with steamed kale and pour cheese sauce over it for a healthier type of mac n' cheese. Serve immediately. If desired crumble some "bacon" tempeh over bowl.
OPTION 2: regular mac n'cheese – pour cheese sauce over freshly cooked pasta.
OPTION 3: pour some sauce over steamed kale, potatoes, roasted veggies, etc.
OPTION 4: great sauce for Nachos!!! use it as as is, or add some "taco" spices to it to create a spicier cheese sauce.
STORAGE of SAUCE: store sauce in airtight container in fridge for up to five days.
RECOMMENDED BRANDS:
Jeanne HIGHLY recommends "Joyva" brand sesame tahini. It comes in an orange/white/brown can that can usually be found in the store near the peanut butter.  Jeanne says this tahini is the best she has found for this recipe so far — it really makes the sauce perfect.
The best olive oil for this recipe is "Bariani" it has a great sharpness  that, when combined with the tahini and nutritional yeast, assists the sharpness of the sauce.
If you are new to nutritional yeast, Jeanne recommends "Red Star" brand, which can typically be found in bulk foods or in the spice aisle.