Monday, October 24, 2016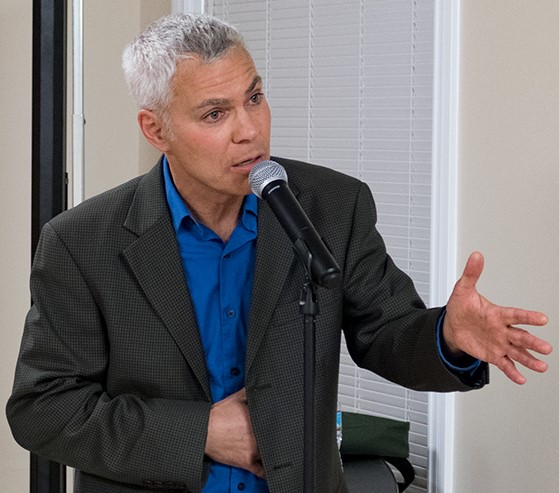 Veteran actor, writer, storyteller, teacher, and comic Steve Budd explored Jewish humor through the work of the Jewish comic geniuses of the 20th century, from Groucho Marx to Jerry Seinfeld.  Part lecture, part performance, Steve's  presentation traced the roots of Jewish humor and explained its character with jokes and routines from the greats.
At one point, a fistful of Sweet n Low packets went flying through the air. Jackie Mason was explaining why a Jew would consider it not just acceptable but necessary to "steal" what the restaurant was giving away for free. The Sweet n Low appropriation came after the Jew ordered breakfast with sufficiently excruciating particularity to drive any reasonable waiter insane. Steve offered many more such examples of self-deprecating Jewish humor. Making fun of oneself is a good strategy for easing the pains of assimilation. See Rodney Dangerfield, Jack Benny, and Joan Rivers, among others. Steve did send-ups of them, too. Bill Maher (part Jew, part Catholic) explained that he took a lawyer to confession.
By the end of the evening, we had relived the Jewish immigrant experience through the suffering, complaining, skepticism, satire, convoluted logic, word play, and distrust of authority that mark Jewish humor. We laughed quite a bit.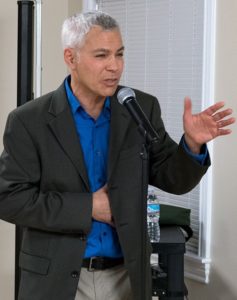 Steve Budd has performed at many Bay Area venues, including The Marsh, Tell It On Tuesday, T.M.I., Busting Out, Solo Sundays, the San Francisco Playhouse, Custom Made, the New Conservatory, and Marin Shakespeare. In September 2016 Steve received excellent reviews in performing his new work, What They Said About Love, at SF Fringe. He has a devoted following of students at the theater appreciation course for seniors that he teaches at City College.