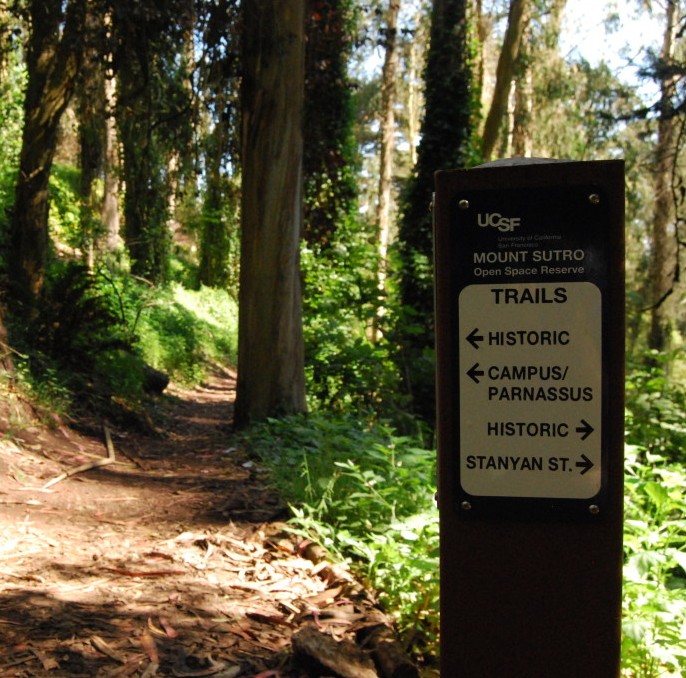 Sutro Stewards are the people who care for Mt. Sutro, the magnificent 61-acre open space preserve above the UCSF Parnassus Heights campus.  The group restores and maintains multi-use trails, trains volunteers in habitat management, and operates a nursery that provides plants for the area.  The organization also advocates for the forest's health, which UCSF has pledged to maintain but has done less than well in actually maintaining. Sutro Stewards Executive Director Craig Dawson spoke to SHARP in June 2014.  In 2015, SHARP donated $1,000 to the group to help fund its tours of Mt. Sutro, some of which focus on the native plants there that can be made into beer.   The "beer tours" provided the inspiration for a festival of sorts at which local brewers provided samples of beers made from plants from Mt. Sutro, and Sutro Stewards raised another $1,500 at the festival.
To have some fun while improving your chances of getting to heaven, help Sutro Stewards do its heavenly work.  Here are two options.
(1) habitat restoration and trail maintenance on the first and third Saturdays of every month from 9 a.m. to 1 p.m.  Meet at the Woods Lot (100 Medical Center Way) at 9 a.m.  Free parking during the program. Work on the trails or in the planting areas. Wear layers (it's chilly on the mountain), clothes that can get dirty, and comfortable shoes. At 12:30, the work stops for pizza and refreshments at the Aldea Center, right on the mountain. If you are coming with a group of more than three people, please RSVP to  joanne@sutrostewards.org.
(2) nursery stewardship, every Wednesday from 9:30 a.m. to 12:30 p.m. Nursery activities include sowing seeds, transplanting plants, tending to the Living Seed-Bank gardens, or planting on the mountain, depending on the needs of the day. No experience needed; Sutro Stewards provides tools and instruction. Wear layers and clothes that can get dirty. Sutro Native Plant Nursery is at the upper intersection of Johnstone and Behr, above the UCSF Student Housing and just past the parking area at 476 Johnstone. Park at 195 Behr. If you are coming with a group of more than 3 people, RSVP to joanne@sutrostewards.org.