Monday, April 28, 2014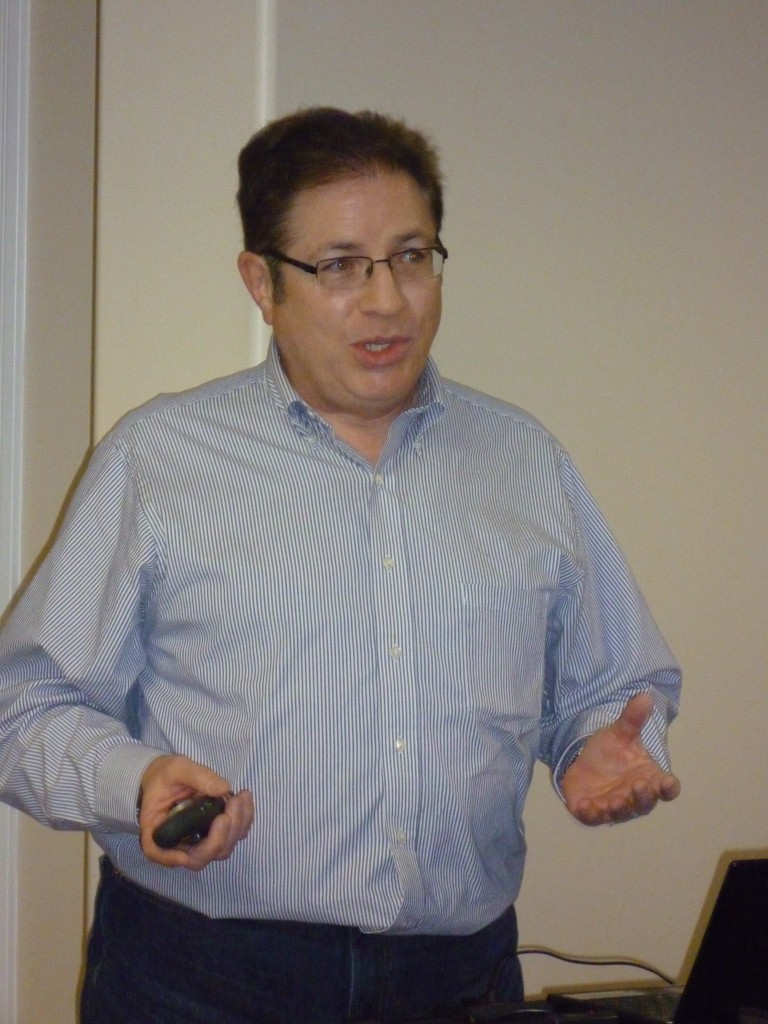 Rob Spoor, who is with the San Francisco City Guides organization, was the evening's featured speaker. City Guides offers free walking tours of all parts of San Francisco.  (For a modest donation, private tours are offered.) Rob delighted and surprised members of the audience with his enthusiasm and vast knowledge of San Francisco facts and history. Since he joined City Guides in 1981, Rob himself has led more than 600 tours!
City Guides began around 1977, when tours were offered of City Hall and the Civic Center. At that time, San Francisco was hosting the U.S. Conference of Mayors, and the visiting dignitaries were also given tours of the waterfront, from the Embarcadero to the Ferry Building. The following year, 67 intrepid volunteers "graduated" from training to become City Guides. Currently, more than 275 dedicated people volunteer their time. These volunteers "pass the hat" after the tour, but all proceeds go to fund the organization; no gratuity or payment can be accepted by a volunteer.
In 2013, nearly 4000 tours were given to 50,000 guests, about 38% of whom are from San Francisco and other Bay Area cities. New tours include (among others): Bungalows of Westwood Park, Alfred Hitchcock's San Francisco, Silent Film in San Francisco, Glen Canyon Hike, and the Parkside.
Rob ended his presentation with an extended audience participation exercise, in which he showed photographs of San Francisco Landmarks and challenged members of the audience to identify them (remarkably, many guesses turned out to be correct). These photographs showed sites included in the following available tours: Architectural Tour; 1906 Earthquake and Fire Walk; Victorian San Francisco; South Park; Mission Bay Hidden Walks; 1906 Presidio and Earthquake; Port of San Francisco; Ferry Building; Controversial Murals of Rincon Center; Inner Richmond; and Russian Hill Stairways.
City Guides are truly San Francisco's goodwill ambassadors, both to residents and people visiting from all over the world. To learn more about the organization and get upcoming tour schedules, please visit www.sfcityguides.org.
The meeting began with a brief but informative presentation by representatives of San Francisco Municipal Transportation Agency about the Sunset Tunnel Trackway Improvement Project.  Jay Liu, Public Relations Officer; Tess Kavanagh, Project Manager; and Mark Rudnicki, Project Engineer gave nuts and bolts details about the project, which is slated to begin in September, and will occur over 15 weekends between September 2014 and May 2015.  During that time, MUNI buses will provide service between the beach and the end of Duboce Street.
In addition to installing seismic upgrades to the tunnel walls and replacing the overhead contacts within the tunnel, the contractor will install new accessibility platforms at Judah and 28th and signal system upgrades (that sense the arrival of trains and give them priority) at nine intersections.
The improvements will result in some level of inconvenience during construction, and mitigation measures will include traffic control officers at affected intersections; proactive notification to the community; and MTA "Ambassadors" who will direct passengers at transfer points.
MTA staff graciously fielded a number of questions from those in attendance, and, as MTA is eager to provide as much information as possible to the public, the MTA website can be accessed for information and updates, and individuals can send email to sunsettunnel@sfmta.com.