Monday, July 29, 2013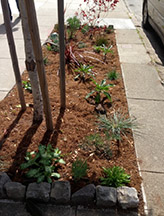 Barry Hermanson of the Green Party asked us to vote for him Congress.  He ran again in 2014.   His website is here.
Matt Shupe, Executive Director of the San Francisco Republican Party, said we should consider the party for its local and state positions and candidates.   He said the party is rebuilding and reconsidering its stands on many issues.
Carla Short from S.F.D.P.W. told us about the city's "Grey to Green" program, which allows you to use a bit of your sidewalk for a garden.  For more information you can contact Ms. Short at (415) 641-2674 or go to the "Sidewalk Landscaping" page on the SFDPW website.   The site has information on everything from permits to the types of plants that do well.  Many beautiful sidewalk gardens are showing up on our local streets.  You can see more examples here.