Monday, September 29, 2014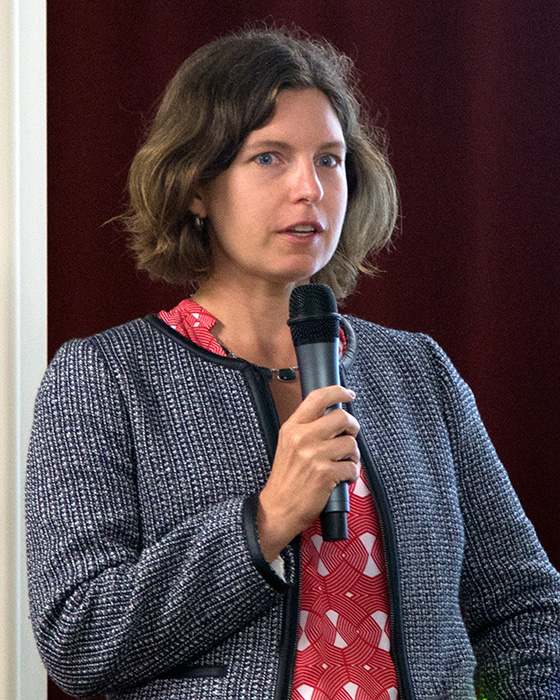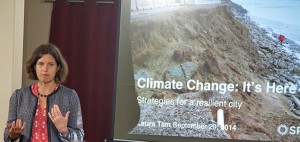 Laura noted that California and San Francisco have done their part to combat climate change.  San Francisco has reduced its carbon emissions 12% below 1990 levels.  However, neither the state nor city are on track to meet their additional goals. Since cars and trucks produce 39% of San Francisco's emissions and electricity consumption another 16%, future reductions will likely have to come in these areas.
While stressing the continued importance of reducing emissions (so called "mitigation" of climate change), Laura focused mainly on adaptation: what we are doing in the Bay Area to minimize the damage from climate change.  Adaptation is necessary because with rising temperatures (four to ten degrees Fahrenheit by the end of the century), sea levels will continue to rise, and episodes of extreme weather will increase.
Extreme Heat
San Francisco will experience a sharp increase in very hot days (81 degrees or warmer). In the twentieth century, we had an average of 12 such days per year. There will be 20 very hot days per year through 2035, between 32 and 46 by mid century, and between 70 and 94 by the end of the century. Extreme heat is the most dangerous aspect of climate change in the Bay Area because such heat, combined with deteriorating air quality from fire, threatens the health of children, the poor, the elderly, and the infirm. Laura did not specifically say what we are doing about it. She did say that part of the answer is planting trees to provide shade and combat the "heat island" effect: cities having temperatures 5 to 8 degree warmer than nearby areas because city surfaces such as asphalt limit natural cooling.  Friends of the Urban Forest has led the way in tree planting in San Francisco for decades, including in the Inner Sunset in October 2014.
Drought and Decreased Snowpack
We have based our water supply strategy on a climate that no longer exists. Two-thirds of the state's water comes from snowpack, but rising temperatures will reduce the snowpack 20% by the end of the century even with no drought. Population growth—some two million more people in the Bay Area by 2040—will create further demand for water.
At 50 gallons per person per day, San Francisco is one of the state's most efficient users of water. Water recycling is one of the most promising ways to increase supply. The city has an innovative program in which 18 new buildings are or will be participating, recycling water on site. One such building is the home of the San Francisco Public Utilities Commission, at 525 Golden Gate Avenue. By harvesting rainwater as well as recycling water, the building uses 60% less water than a customary building of its size. While supplies last, the PUC is offering free water-saving devices to San Francisco residents. The PUC also offers cash rebates for replacement of inefficient toilets and washing machines, as well as tips on how residents can recycle water and harvest rainwater.
Unlike Orange and Santa Clara counties, San Francisco does not have a water recycling facility.  Laura spoke highly of the water recycling plant in Silicon Valley.  Once built, such a facility requires only a modest investment to upgrade recycled water into potable water.
Sea Level Rise
Sea level along the California coast is likely to rise 11 inches by mid-century and 36 inches by the end of the century. Ocean Beach has already suffered significant erosion from the El Nino years. The Ocean Beach Master Plan, published in May 2012, presents a comprehensive plan to protect transportation and wastewater infrastructure, restore coastal ecosystems, and improve public access. In one of its key recommendations, the plan calls for the restoration of sand dunes and the installation of sand ladders and boardwalks for pedestrian access. The cooperation of different levels of government, stakeholder organizations, and beach users helped to produce the plan and will help with its implementation. Three followup studies have begun, the next steps in implementing the plan.
On the eastern waterfront of San Francisco in one of the city's lowest lying areas, Mission Creek is vulnerable to flooding from both sea level rise and stormwater runoff. SPUR is studying what to do about it, beginning with an inventory of vulnerable assets and strategies for protecting them.
Hurricanes Katrina and Sandy demonstrated the importance of wetlands in cushioning low-lying areas from storm surges. Apart from flood protection, wetlands improve water quality, sequester carbon, and provide critically important habitat for birds and fish. Rising sea levels will drown wetlands unless they have room to migrate upward as sea levels rise. Although the Bay has only 45,000 acres of healthy wetlands compared to the 200,000 it had originally, we have made and continue to make significant progress in restoring wetlands.
Tam said the airport, which is at risk of inundation, is doing a lot of work adapting to sea level rise.
For more information, read Laura's article, "Taking Action on Sea Level Rise" and SPUR's comprehensive 2011 report, "Climate Change Hits Home," which Laura helped to write.