Monday, November 25, 2013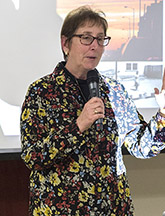 Carla Kozak, a librarian with the San Francisco Public Library thanked S.H.A.R.P. for its contribution to help fund the 90-second Newbery festival next year.  The 90-second Newbery is the brainchild of James Kennedy; its object is to create a 90-second film about a Newbery-award-winning book.  Mr. Kennedy will be visiting the Hoover Middle School and will be at the festival at the San Francisco Main Library on the
afternoon of February 8, 2014, when he will hold a free screening of films.  Mr. Kennedy's project is now an international phenomenon; more
information.
S.H.A.R.P. Board Member Jack Barry announced that our winter solstice party will be at noon on Sunday, December 29.  We'll have a feast and fun;
the event is open to nonmembers at a nominal charge. The highlight of this year's party will be the presentation of S.H.A.R.P.'s Local Hero
award to Harold Gilliam, a local resident and longtime newspaper journalist and author of several books on the Bay Area.  Mr. Gilliam is noted for the depth and breadth of his knowledge of the Bay Area's environment and natural habitats.  Jack also announced that S.H.A.R.P.  members have been invited to a brunch on January 7, 2014, at the new La Boulange opening on 9th Avenue.  Anyone wishing to attend either of these
events can contact Jack at pastpres@sharpsf.com.
S.H.A.R.P. Board Member Jeremy Friedlander is working on expanding our programs.  He invited all in attendance to come to the community room on
December 18 at 7:00 p.m. to help get our monthly mailing ready.  Self-adhesive stamps, postcards, and stamps will be provided!  Shortly after our next general meeting on January 27, 2014, at which Joel Engardio will be the featured speaker, we will host a one-hour chamber music performance by the International Low Brass Trio.
Ms. Ungaretti used a series of photographs to illustrate the history and development of the Sunset District. Many of the photographs showed "then" and "now" scenes, amplifying the theme in her most recent book: Stories in the Sand – San Francisco's Sunset District 1847-1964.  Many images were shown and many stories told.
Ms. Ungaretti began with a description of the "Great Sand Bank," as the area was described in the mid-1800's in a U.S. Geological Survey.  She demonstrated through maps and pictures how Golden Gate Park arose from these dunes.  At one time the top of Strawberry Hill featured the Sweeney Observatory, which was felled in the 1906 earthquake.  The audience was treated to astonishing views of 19th Avenue as a dirt lane in 1900, as well as the car racing that was held on that road beginning around that time and lasting for about 15 years.  A view of Cole and Parnassus showed a small body of water and a fenced off area.  Evidently, there were a number of dynamite factories in the Sunset that would occasionally experience explosions. A view of the Sunset Tunnel on opening day in 1928 showed Mayor "Sunny Jim" Rolph presiding.
Ms. Ungaretti talked about the history of the Trocadero Road House in Stern Grove and the Little Shamrock on Lincoln near 9th , established in 1893.  Both are still in existence, as is the old brick gas station at 16th and Irving.  She described in great detail the development of the Sunset as a residential area in the 1930's and 1940's, with an emphasis on Henry Doelger, whose headquarters at 320 Judah between 8th and 9th still stands.She also showed slides of the "storybook" houses developed by Oliver Rousseau, many of which still stand on 34th – 36th Avenues between Kirkham and Lawton.
Buildings that currently have been designated as Landmarks include: the Firehouse on 10th Avenue; various earthquake "shacks" on 18th Avenue; Shriner Building on 19th Avenue; Sunset Branch Library; Conservatory of Music; Doelger Building, and the beloved Doggie Diner Head across from the zoo.
This is just a brief summary of the fascinating and informative talk Ms. Ungaretti gave.  She leads two walking tours for the San Francisco City Guides: one of the Inner Sunset and one of Sigmund Stern Grove. Information on her books and tours can be found at her website.