Monday, April 25, 2016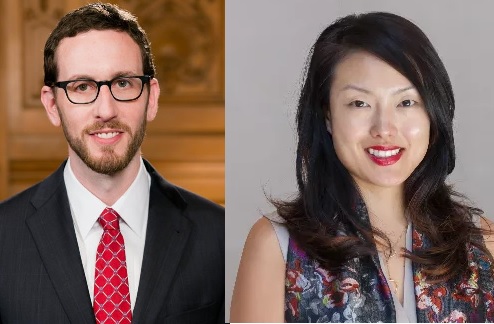 Jane Kim and Scott Wiener are opposing each other in a competitive race to represent the 11th State Senate district, which covers San Francisco. (Mark Leno, the current State Senator, is term-limited out.) The new State Senator will be San Francisco's only State Senator, will be eligible to serve a total of 12 years, and will be well positioned to run for Congress when 76-year-old Nancy Pelosi retires.
Kim and Wiener debated each other at the County Fair building before a crowd of about 80.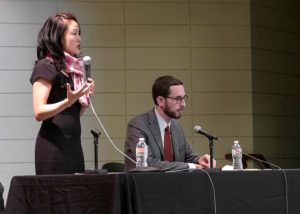 The candidates responded to questions about crime, homelessness, affordable housing, transportation, climate change and the environment, and the crisis in the funding of public employee pension and health benefits.
The candidates were asked this question about homelessness:  "Would you support or oppose legislation to make it legal for homeless people to sit, sleep, and camp on city streets and parks regardless of city ordinances?"
Wiener said he strongly opposed proposed state legislation that would make it "100% legal for someone to pitch a tent on the sidewalk outside your home." He said that people living outside on the streets are more likely to "deteriorate and die," and that permitting such conditions was "not humane treatment."
Kim said she "opposed legislation to criminalize the homeless." Without directly answering the question on proposed state legislation to make it legal to camp anywhere, she said "sweeping people up with nowhere to put them" was wrong.
Both candidates advocated more housing for the homeless. Kim mentioned her support for a respite shelter in her district. She criticized Wiener for creating a park on public open space she wanted to use for housing the homeless. Wiener mentioned his support for affordable housing in his district, as did Kim in hers.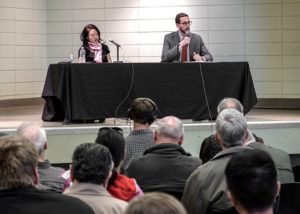 According to an article in the New York Times, San Francisco has the highest rate of property crimes per capita of any major city in the nation. In 2015, San Francisco had a bigger increase in property crime than any of the other 25 biggest cities in the country.  The candidates were asked: "What specifically will you do at the state level to combat the dramatic increase in property crime in San Francisco and our neighborhoods, particularly car break-ins and car burglaries?
Kim said she opposed "mass incarceration" of criminals including car burglars, because it "isn't a deterrent." Citing a break-in in her roommate's car, she said she would strengthen the victim compensation fund "so we can actually help people" after a crime is committed. Wiener advocated stronger action against criminals who were "repeat offenders" to deter crimes. He said,  "They shouldn't have to be arrested 10, 12, or 15 times for breaking into or stealing from cars to be held accountable . . . there should be consequences." He indicated that after 6 months in jail repeat offenders might think about those consequences.
Both candidates cited their local records as evidence of the approach they would take at the state level. Kim advocated more drug treatment and housing to reduce crime; she also favored "keeping kids in school."  Wiener touted his measure to increase the city's police force by linking the number of police officers to population growth, and he criticized Kim for opposing it.
Kim said "police don't prevent crime" but denied she was opposed to increasing police. She said police need to be held accountable. She advocated both more training for police in their use of force and opening individual police personnel records in certain cases.  Wiener agreed that police "who mess up should be held accountable" but urged Kim to "stop demonizing police" when they were exonerated. Wiener too opposed "mass incarceration," and cited his support for three strikes reform.
This article in Hoodline offers another report on the debate.
Kim, Wiener, and a third candidate, Republican Kenneth Loo, will compete against each other in the June 7 primary.  The top two finishers (almost certainly Kim and Wiener, since Democrats outnumber Republicans by more than 7 to 1 in San Francisco) will run off against each other in the November 8 general election.