Monday, February 9, 2015

The time to learn about the School Board is when people aren't running for it.  School Board members Emily Murase and Rachel Norton answered questions on a wide variety of issues from interviewer Lee Hsu and then from the audience, remaining  a half-hour after the meeting for followup conversation. No one left early, and most stayed late. It was an informative, engaging evening. Audience members were asked to evaluate the program with two 1-10 ratings: (1) how much did you learn of value, and (b) the overall quality of the program. The average scores were: learning of value 8.0, overall quality 8.7.
The Panelists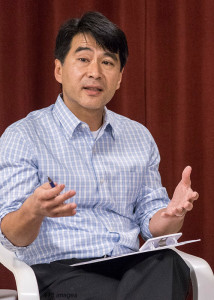 With an undergrad degree from Stanford and a law degree from Yale, Lee Hsu has worked in education, tech, law, and finance. He is a community leader in the West Portal neighborhood and a volunteer teacher of computer skills to kids in the schools. In November 2014, he ran a constructive though unsuccessful campaign for the Board in which he championed neighborhood schools and, like others, called for changes to the Board's school assignment system.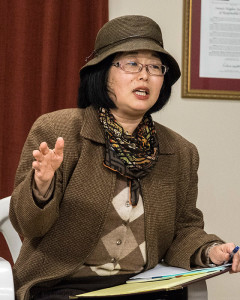 In November 2014, Emily Murase was re-elected to her second four-year term. In February 2015, she became president of the Board. While on the Board she has focused on such initiatives as anti-bullying, reforming the school meals program, supporting foreign language and STEM (science, technology, engineering, and math) programs, and implementing the new Common Core standards. Emily chairs San Francisco's Commission on the Status of Women.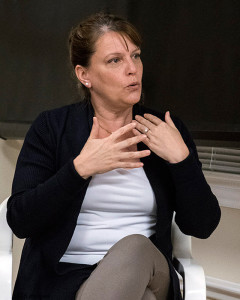 Rachel Norton was elected to the School Board in 2008 and reelected in 2012. In addition to chairing several of its committees, she chaired the Board itself in 2013 and served as vice-chair in 2012. She runs an excellent website devoted to the work of the Board. Rachel is Director of Policy and Communications for the San Francisco Parks Alliance, a group that promotes and coordinates stewardship, philanthropy, and sound policy for San Francisco's public parks.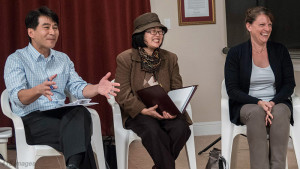 Lee, Emily, and Rachel are all parents of children who attend San Francisco public schools.
SHARP thanks all three panelists for graciously enduring yet another community meeting and patiently answering all our questions.
The Program
Emily and Rachel identified several resources that provide information about the school board, the school district, and education policy: (1) Parents for Public Schools (which, among other activities, sponsors workshops throughout the year for San Francisco parents, including workshops on choosing a school), (2) the San Francisco PTA, (3) Ed100.org (a free online instructional course for parents in California who want to help improve their local schools), and (4) Edsource.org (an online newspaper about education issues, run by former Chronicle education writer Louis Freedberg). Rachel herself runs an excellent website where she reports on the work of the board, answers questions, and offers commentary.
Asked how to become educated about the School Board without spending an inordinate amount of time on it, Rachel recommended following the School Board meetings, which are broadcast on KALW, 91.7 FM (a radio station owned by the school district).  The Board meets at 6 p.m. on the second and fourth Tuesdays of the month. Rachel recommended actually attending the Board meetings because the body language of members can be telling.  She did not explain how following the School Board on the radio or in person can be done without a significant time investment.
The district is moving away from "tracking"—the practice of offering specialized study to selected students, such as in GATE (Gifted and Talented Education) programs. Emily and Rachel defended the shift. Emily said early tracking of children into GATE classes rather than into General Education classes was harming disadvantaged students. She said San Francisco is one of the top performing school districts in the state yet has one of the biggest achievement gaps in the country between white and Asian students on the one hand and African-American, Latino, and Pacific Islander students on the other. Speaking from the experience of a parent who had one child in General Ed and another in honors, Rachel said that the General Ed curriculum was watered down, with low expectations and poor results. Rachel observed that the new Common Core curriculum does not work well with tracking, though she did not explain why not. Rachel said it has been very challenging to move away from tracking; two schools still have it. Although they oppose full-day tracking, Emily and Rachel support remedial classes for some Gen Ed students during 7th period, as well as some GATE programs. The district offers this FAQ about GATE.  The last page of the three-page document deals with the district's shift from GATE in light of Common Core.
The mother of an autistic child, Norton said that when she was elected the district had in effect been denying special ed students their right to the least restrictive educational environment. Rachel claimed credit for creating programs whereby special ed students are mainstreamed into Gen Ed classes, receiving special assistance as needed. Rachel said Superintendent Richard Carranza had championed such inclusive practices. She said she wanted schools with a "continuum of placements," driven by the needs of the children rather than the convenience of staff. Not every special ed student is able to be mainstreamed, and others can be helped best by part-day inclusion programs, rather than full-day immersion.
The panel spent much time discussing the district's ever-controversial school assignment system, which Rachel said has been the most difficult problem she has encountered in her professional life. She acknowledged that her thinking has evolved on the subject. Initially, she joined the rest of the Board in adopting a school assignment system that made residency in a low-test-score area a higher ranked criterion for school assignment purposes than residency in the attendance area of a given school. Largely because that system failed to achieve racial diversity in the schools, Rachel is now proposing to rank those two criteria as they had been previously — with attendance area given more weight than low-test-score area. Emily supports the proposal, and Rachel said she has the votes to pass it.
Emily noted a huge information gap among parents. Parents with fewer resources tend to choose the neighborhood school for their children. Wealthier parents have the resources to find and compete for places in high-performing schools anywhere in the city. The result is a system as segregated as ever, as described in this article recommended by Lee.
The panel agreed that part of the answer lies in adding high quality programs (such as foreign language immersion) to improve schools in less affluent neighborhoods and thereby to attract children both from the neighborhood and from more affluent areas. A test case may be Willie Brown Middle School in the Bayview, which had been closed and demolished because it was so bad and has now been rebuilt. It will re-open in August 2015. Rachel reported that the school seems as if it will be both well-subscribed and racially diverse, in part because of its programs and in part because school board members took the unusual step of going door to door in the neighborhood to promote the school.
A disproportionate number of the city's children live in the southern and eastern parts of the city, so that is where any new schools should be built. Rachel said, "We should have built a school in Mission Bay yesterday."  Asked why the district had not done so, she said it was very expensive to build in an earthquake zone and there was "a constituency" for a science and tech high school. whereas an elementary school is needed.
Several people questioned whether the school district adequately reaches out to parents to "make the sale" for public schools over private schools.  Rachel said that busing had driven people out of the public schools years ago and that the district had still not recovered.  She and Emily said the district had a PR problem, in that many people have an outdated perception of the public schools and don't realize how good they have become. It was not clear whether the district has a strategy for overcoming that problem.  Emily said the district does outreach to preschools and also does enrollment fairs, usually on the first Saturday in November. She said more programs like language immersion would help to reclaim students from private schools. Rachel noted that until 2013 the district had been operating under brutal budget cuts and only recently had regained the resources to add programs. Emily spoke favorably about the district's program that allows companies to "adopt" schools.  When a company adopts a school, employees of the company go into the adopted school and are favorably impressed when they see what is happening there. Rachel said Google had taken San Francisco public school kids to its campus to teach them how to code. She said such programs give the children a new vista and are attractive to parents.
Emily said there is a statewide shortage of teachers. The district barely covered its schools at the start of the 2014-2015 year, and the arrangement "fell apart" when teachers retired. The district is trying to schedule exit interviews in order to do a better job of anticipating teacher retirements. The high cost of living in San Francisco exacerbates the problem of teacher recruitment. The requirements for being a substitute teacher have been lowered, but substitutes are still difficult to find because they are paid only $100 a day.
Asked why there are no teachers on the school board, Emily said it was too expensive for them to run. Emily spent $80,000 on her first campaign; Rachel spent $55,000 on hers. Successful candidates need a network of people who can make the maximum contribution: $500. Teachers tend not to have such networks. Emily favored a public financing system for school board elections. Asked if they favored any other changes in the electoral process, neither board member suggested any. Rachel said she opposed district elections because it would lead to horse-trading among district representatives that would not help the schools. Rachel said that running for the School Board is very difficult as well as very competitive. She said people mistakenly believe that School Board members are political hacks, when in fact all the Board's members work hard and care deeply.
Asked how many teachers get fired each year, neither Board member answered.  Rachel said it was difficult but not impossible to fire a teacher. Emily said the process used to take two years but now takes only one.  Rachel said there is a two-year probationary period for new teachers during which they can be "non-reelected" without fault. Emily said teaching should be considered a profession, teachers should work a full year, rather than a nine-month year, and expectations should be made clear.
So-called classified employees (those who are not teachers or principals) are easier than teachers to fire.  Rachel said some classified employees have the very difficult job of dealing with the public. Rachel also said, "We could have a much better public face."  She did not elaborate.
Asked about past financial improprieties among Board members, Rachel said Board members no longer get credit cards and the district has had "clean" audits for the last three or four years, "which is almost unheard of." Emily said that principals are the CEOs of their schools and that the job of  elementary school principal is the hardest one in the district.