Monday, November 28, 2011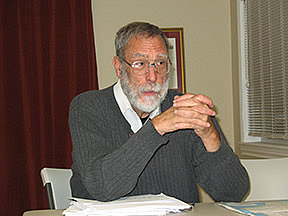 Chris Bowman analysed the November elections in San Francisco and the effects of Ranked Choice voting.  For example, Mayor Ed Lee's name was marked on only 43% of total voter ballots, and Sup. John Avalos on just 29%; DA George Gascon was the only candidate to receive 50% or more of the vote.
Bowman then described the likely results of local Superivsorial redistricting based on the latest census. The population of District 6 (Supvsr. Jane Kim) grew by more than 29% and its borders will be substantially changed, meaning the borders of most supervisorial districts will be revised.  Redistricting also impacts state legislative districts, with the result that Bowman predicts Supervisor Avalos will now win election to the State Assembly.
The Hidden Garden Steps project was the focus of a presentation by Liz McLoughlin, one of its volunteer co-chairs.  The city-owned 146-step stairway is an extension of 16th Avenue, between Kirkham and Lawton.  Already, a mural designed and painted by the Woodside International School adorns the retaining wall on Kirkham Street.
Using drawings and sample tiles, Liz showed us the vision of a second tiled stairway in the Inner Sunset. Artists Aileen Barr and Colette Crutcher, who designed and produced the first tiled stairway (the extension of Moraga between 16th and 15th Avenues), have designed the Hidden Garden Steps.  Already, 94 people have donated tiles to the project, raising $59,000 of the $300,000 goal.  The organizers hope to begin firing tiles by the summer of 2012.  SHARP applauds their efforts to beautify our community.