Monday, March 28, 2016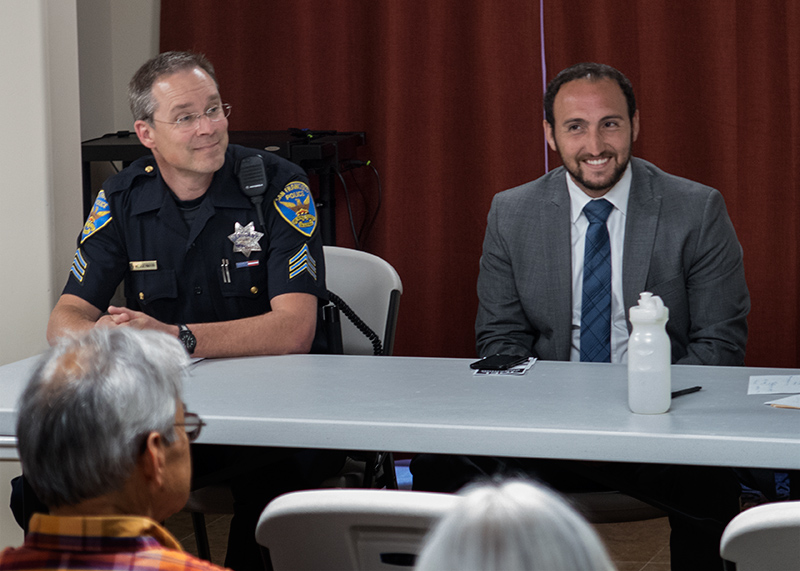 We invited District Attorney George Gascon and representatives of the police captains from the Park and Taraval stations to discuss the crime trend, what they are doing about it, and how we can help.  DA Gascon did not show up. He sent a representative, Assistant District Attorney Marc Massarweh, who was assigned to the Park, Taraval, and Richmond districts.  Within a month of the meeting, Massarweh was replaced by ADA Archie Wong: archie.wong@sfgov.org. No one from the Park Station came, though Captain Sanford did speak to SHARP President Frank Noto on the phone earlier in the day.  Acting Lieutenant Paul Weggmann represented the Taraval Station.  An overflow audience attended. The meeting was respectful, constructive, and mostly unsatisfying.
For the most part, violent crimes are down in the city, but burglaries, especially auto burglaries, are up. In 2015, San Francisco had a bigger increase in property crime than any of the other 25 biggest cities in the country.  Yet there were fewer arrests.  According to the New York Times, San Francisco has the highest per capita property crime rate of any of the country's 50 largest cities, and the problem shows no sign of abating.
Our neighborhood is no better. Lt. Weggmann said burglaries are "through the roof" in the Taraval district. Year to date from 2015 to 2016, burglaries rose 17% citywide but 47% in the Taraval district. Auto burglaries rose 31% citywide and 34% in the Taraval district. In the Taraval district from December 2015 through February 2016, there were 38 robberies, 170 burglaries (about one a day), and 522 thefts from automobiles (a little less than six a day). At 10 square miles, the Taraval district is the largest one in the city.
Weggmann said "a lot of crimes" are committed by "a smattering of people who know they can get away with it and who keep doing it." They are encouraged, he believes, by Proposition 47 (see below) and by a city in which "law enforcement is not a priority." Weggmann blamed "very liberal" judges and prosecutors, as well as voters who "feel so sorry for defendants that they don't lean on them." Weggmann said city judges grant probation, then modify it, putting criminals back on the street. Weggmann said the city as a whole staffs the police inadequately but that having more police officers would not help, presumably because of the city's allegedly lax attitude toward crime. ADA Massarweh said San Francisco has a "liberal bench" and a "liberal jury pool."
Neither Weggmann nor Massarweh supported his views with statistics, cases, names, or evidence. Weggmann went so far as to say that he could not stand statistics and felt comfortable with generalities (presumably his own). When he sees a spike in crime in the district, he thinks it means only that one or two people came off probation or were released on parole. Again, he cited no supporting evidence.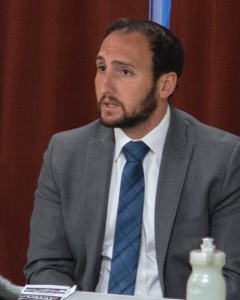 Massarweh and Weggmann said Prop 47 has made it harder to prosecute property crime. They appeared to reason as follows: (1) the police arrest persons who are charged with felonies but only issue citations to persons charged with misdemeanors; (2) a car break-in (i.e., auto burglary) is a felony but is hard to prove when the evidence is only that that the suspect possesses stolen property, since possession of stolen property does not definitively show that the suspect participated in the car break-in; (3) Prop 47 prevents the authorities from charging a defendant with a felony for receiving stolen property if the stolen property is less than $950 in value, whereas such a crime could be charged as a felony before Prop 47 (scroll down to page 5). According to this Chronicle article in March 2016, experts do not necessarily accept the view that Prop 47 is responsible for the upsurge in property crime.  The same article says that repeat misdemeanor offenders can be arrested.
Weggmann said that car burglars favor rental cars, which they can identify as rentals by the bar code in the front. The thieves are professionals, though not gang members, who often use stolen IDs to rent cars outside the city, then come here to commit crimes. Golden Gate Park, particularly the area near the deYoung Museum, is a favorite spot. Weggmann said that 90% of the cars burglarized in Golden Gate Park are rental cars.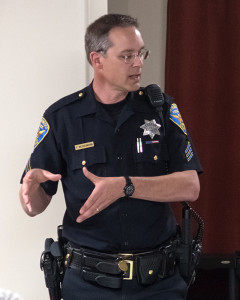 Massarweh said that car burglaries tend to occur at night, when there are no witnesses and no cameras. Weggmann said the arrest rate for that crime is very low. Criminals are attracted to car burglary because the success rate is high, the risk of getting caught is low, and the punishment is relatively minor. Massarweh said the only way to protect oneself is to leave nothing in the car. He did not address the possibility that car break-ins are now so frequent that they occur even when nothing is in the car.
Here is an Examiner article about the crime concerns of some west side residents.
Both Massarweh and Weggman said that it is important to file a police report in the aftermath of a crime because the police across the city share information with each other.  The particulars of one incident can be sufficiently similar to those of one or more others to support a search warrant, which is how these crimes are solved, to the limited extent they are solved. This Chronicle article reports one success story. Thieves broke into the car of a woman at 44th and Lincoln and stole an expensive camera, which she then saw offered for sale on-line.  After she called the Taraval station, the police tracked the seller to a house in Oakland.  They raided the house and found not only the stolen camera but more than 80 other items the police suspected were stolen.  If the items were identified as stolen, as they would be if a police report was filed when they were stolen, the evidence against the suspect(s) would be stronger. As Weggmann put it, "If you file a police report and we catch the guy later, we can string the cases together."
The importance of filing a police report does not seem to be a message the police communicate consistently to crime victims.  In the Q&A session, an audience member said he went to the police station after his car was broken into and the thief left behind a pair of sunglasses.  The audience member said the police did not want to take the sunglasses and told him they would take a report but would not do anything about it. The audience member was not the only one who reported an unsatisfying interaction with the police at Taraval station, though other audience members were complimentary, and all were polite in their comments and questions.
Weggmann praised alarm systems and surveillance cameras as excellent deterrents.  He said neighborhood crime-watch groups can be effective.  The police department's SF SAFE program (Safety Awareness for Everyone) helps residents establish such groups.  A member of the audience indicated that he and others on his block were forming a crime-watch group for the block and would soon be meeting with SF SAFE. Another person at the meeting said, "We need to start acting like neighbors again."
Massarweh said that online sites like Nextdoor are unhelpful because the reports there quickly become distorted.  Captain Sanford made a similar criticism of Nextdoor in his letter to SHARP President Noto.
Weggmann said the best number to call for a non-emergency is (415) 553-0123. A call to that number goes directly to a dispatcher who prioritizes it. A car will be sent. Weggmann encouraged people to use the number to report something they believe is suspicious. He said the police will use a photo if it is vetted but discouraged people from just sending a photo. A call is necessary.