Monday, June 26, 2017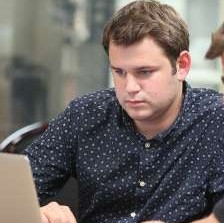 In the last three years, the Golden State Warriors have redefined professional basketball. They have continued to set records this season as they seek to reclaim the NBA title they won in 2015 but lost the next year. Connor Letourneau has been the beat writer covering the Warriors for the Chronicle this season. While describing his work of reporting on one of the best basketball teams of all time, he will give us a behind-the-scenes look at the team and its players. Whether you're a casual fan or a hard-core member of Dub nation, get ready for an enlightening behind-the-scenes look at the game and the team.
After two years covering Oregon University sports for the Oregonian and one year covering Cal sports for the Chronicle, Connor Letourneau moved to the Warriors' beat in September 2016. A student of the pro game, he has written with increasing sophistication and insight about the Warriors as the season has progressed. He tells the reader not just what happened but why.  Like his articles, his talk will enrich your understanding and appreciation of an extraordinary Bay Area sports phenomenon.